Categories:
Other Brands
Are you looking for a rare treasure to own? Well, it looks like Chanel has something in store for all the bag and wallet lovers out there! Introducing the Chanel All Black Reissue 2.55 Double Chevron Flap Wallet, which is truly a diamond in the rough.
An all black limited edition, it means that this wallet is made from black leather as well as black hardware, which is an exceptionally rare find. This my dear, is the truest definition of what timeless beauty is all about.
A part of Chanel Reissue 2.55 Collection, this is one of the famous and most iconic pieces from the house of Chanel. You can effortlessly recognize a Reissue 2.55 wallet thanks to its mademoiselle lock, which is in the middle of the flap. And if you're a keen observer, you'll notice that it also sports the modern Chevron quilting. But wait, it doesn't end there. If you really look closer, you'll also discern that the top is Chevron while the bottom part is in a reversed Chevron quilting. Talk about a clever design that is trendy and eye catching!
Style code A80829, measuring 4.1" x 7.6" x 1.2" inches, priced at $1000 USD, €935 euro, £840 GBP, $1500 SGD, $1430 AUD, $7800 HKD, ¥114480 JPY via Chanel boutiques.
Tags: Chanel wallet Flap 2.55 reissue Black DOUBLE CHEVRON ALL
comnum(0) tbcount(0) tbcount(33)
Categories:
Other Brands
IMAGE: LOEWE
If there's something to be said about Loewe, it's their constant push to make bags that are truly out of the ordinary. Rather than sticking to the tried-and-tested formula of creating bags that somehow look like they all came from the same industry templates, you've got to give them full marks when it comes to creativity. From the eye-catching Puzzle to the supplely-soft under the shoulder Flamenco Knot to the equivalent of Doraemon's Convenience Bag that is the Yago, there are very few bags at the Spanish luxury house I dislike.
Then, there is this, simply known as the Hammock. Named so because if you were to pull its top handles wide, you could almost imagine attaching each end to a tree with the centre portion of the bag forming the 'bed'. Yes, it has been often compared to H's Lindy, but if you were to put them side by side, you'd definitely see the differences. While the former is more short and squat, the unisex Hammock is much taller, with an ample sling that allows you to wear it over the shoulder much more comfortably. There isn't the cumbersome zippered lid, which means easy access into the bag as and when you require.
Available in at least 2 sizes, the regular-sized one measures 35 cm by 32 cm by 30 cm, while the one in Small comes in at 29 cm by 26 cm by 27 cm. Besides Classic Calf (which is just Loewe-speak for really lush supple leather) that retails for SGD3690 and SGD3150 for the two sizes, you'll also find it in pleated Nappa and exotic python, as well as this season's special in Multitone Denim.
Made up of 3 differently coloured panels of denim and trimmed with calf leather in Tan (SGD2890 and SGD3490 respectively), it's perhaps the most casual take on the Hammock yet, one that's best suited for movie evenings and casual strolls.
Tags: Loewe
comnum(0) tbcount(0) tbcount(26)
Categories:
Fashion
Gigi Hadid sports embroidered top and jeans in DSquared2's spring 2017 campaign
The spring-summer 2017 campaign season happened to be Gigi Hadid's best yet. From high fashion brands to commercial names, Gigi landed several major advertisements. Whether posing alongside her sister Bella Hadid or going solo, the top model proved why she is so highly in demand. All the campaigns show the many sides of Gigi. Photographers like Steven Meisel and Mario Testino captured the blonde in settings ranging from the beach to a paparazzi swarmed studio. Check out six of Gigi Hadid's top spring campaigns below!
GIGI HADID – SPRING/SUMMER 2017 CAMPAIGNS
Looking red-hot, Gigi Hadid poses in Max Mara Accessories' spring 2017 campaign
Surrounded by the paparazzi, Gigi Hadid stars in Moschino's spring-summer 2017 campaign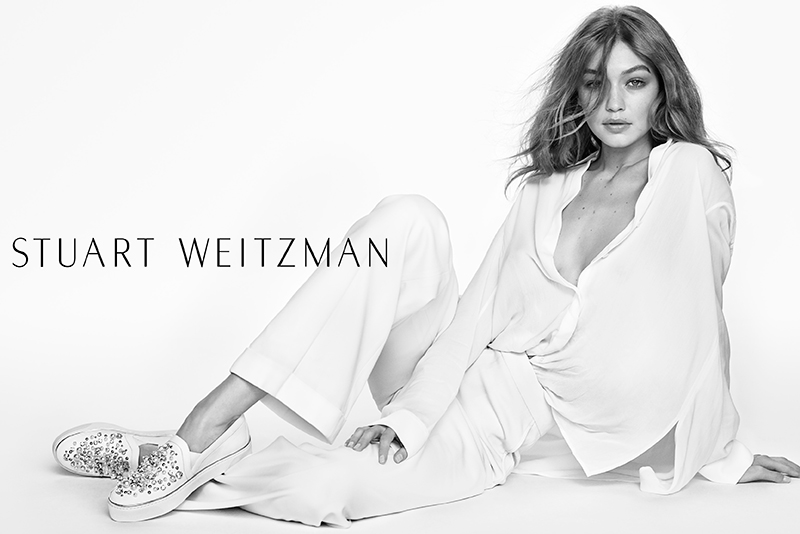 Gigi Hadid stars in Stuart Weitzman's spring-summer 2017 campaign
Posing in Paris, Gigi Hadid stars in Fendi's spring-summer 2017 campaign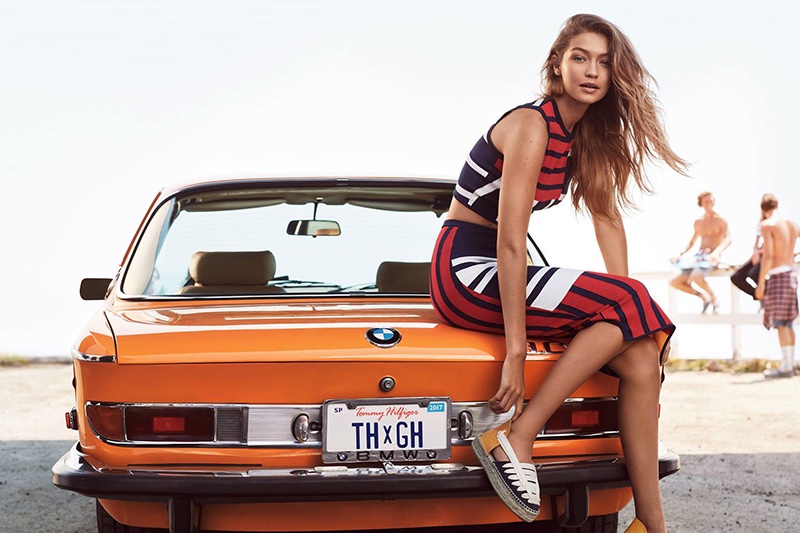 Gigi Hadid stars in Tommy x Gigi spring-summer 2017 campaign
comnum(0) tbcount(0) tbcount(51)
Categories:
Other Brands
Take urban couture to a whole new level with Dior's Stardust Small Zipped Pouch. With it's pretty in ensemble and sophisticated embroidery, no wonder that this unique pouch will attain its own popularity.
Dior's Stardust line beautifully embodies and catapults the urban and couture spirit of fashion house to the celebrity status it now enjoys. If you'll remember, we've already featured the Stardust pouches before, but now they come in smaller sizes.
This Dior Stardust Small Zipped Pouch has a unique charm of its own. It is beautiful, cute, and quirky all at the same time, thanks to the DIOR charm, which actually looks bigger if you compare it with the size of the pouch.
Beautified with different badges embroidered with rhinestones and sequins, refined with silver-tone jewelry and white rubber DIOR charms. The interior comes with 1 zipped pocket and 1 interior key ring. Measuring 11.5 x 8 cm and is priced €370 euro, £320 GBP, ₩580,000 WON via Dior boutiques.
Tags: Dior SMALL STARDUST ZIPPED POUCHES
comnum(0) tbcount(0) tbcount(52)
Categories:
Other Brands
Even if you enjoy Valentine's Day--I generally do--you can probably agree that it's pretty corny. The holiday's tropes feel a little lame and formal for adult humans in adult relationships, but if you make it your own, it's a great opportunity to do something nice for your spouse, partner, best friend--whoever. It's best celebrated as a day of affection and appreciation, no matter who you're with.
Valentine's Day also traditionally involves gift-giving, and I have a little theory about how to make that go smoothly as well: the best Valentine's Day gifts are things that can be worn or used in everyday life, but picking something in a traditional V-Day color gives the recipient a nice reminder of the occasion the piece marks. If you're more of a candy person, there are chic ways to do that, too--check out all of our suggestions below.
1 / 19
Aquazzura St. Tropez Bow Sandals

2 / 19
Aurelie Bidermann Lace Rose Gold-Plated Earrings

3 / 19
Balenciaga Metal Edge Money Wallet

4 / 19
Chanel Wallet on Chain Bag

5 / 19
Christian Louboutin Pigalle Follies Pumps

6 / 19
Gucci GucciGhost Shawl

7 / 19
Hanky Panky Thong Set

8 / 19
Kate Spade Rose iPhone 7 Case

9 / 19
Kismet by Milka Tiny Folded Heart Diamond Necklace

10 / 19
L'Agent by Agent Provocateur Siena Bralette

11 / 19
Louis Vuitton Totem Flower Bag

12 / 19
Mansur Gavriel Mini Mini Bucket

13 / 19
Monica Vinader Signature Rose Gold Vermeil Bracelet

14 / 19
Mother of Pearl Saddle Bag

15 / 19
Prada Esplanade Bag

16 / 19
Sleepy Jones Corita and Paloma Pajama Set

17 / 19
Sugarfina Bento Box

18 / 19
Thierry Lasry Hinky Sunglasses

19 / 19
Valentino Rockstud Camera Bag

comnum(0) tbcount(0) tbcount(50)
Categories:
Other Brands
If you want to have your own sense of style, be ready to take the plunge despite your critics! As Coco Chanel beautifully said it, "Don't be like the rest of them darling." And you can take Coco's advice by heart by owning one of Chanel's Boy Braided Chevron O Cases.
Speak your mind and follow your fashion gut feeling with these Boy Chanel Pouches in braided calfskin & ruthenium metal hardware. With their bright and attention-grabbing colors, you can always lighten up your ensembles by owning one of these beauties.
Now you might ask, what's the real deal with these Chanel pouches, as they look quite the same with the former versions? Look again as you might miss the fact that they not only feature the famous Chevron quilting but that they also come with the braid effect. The CC logo is strategically placed on the top.
Now they come in two sizes, here are the details:
Small Boy Chanel Braided Chevron O Cases
Style code: A80571
Size: 7.9' x 10.8' x 0.4' inches
Prices: $1325 USD, €1250 euro, £1120 GBP, $2010 SGD, $10200 HKD, $1920 AUD, ¥153360 JPY, ¥9800 CNY
Boy Chanel Braided Chevron O Cases
Style code: A80570
Size: 9.4' x 13.8' x 0.6' inches
Prices: $1650 USD, €1550 euro, £1390 GBP, $2490 SGD, $12700 HKD, $2380 AUD, ¥190080 JPY, ¥12100 CNY
Tags: Chanel Boy CHEVRON BRAIDED O CASES
Categories

New Posts

Hot Posts

Tag Cloud